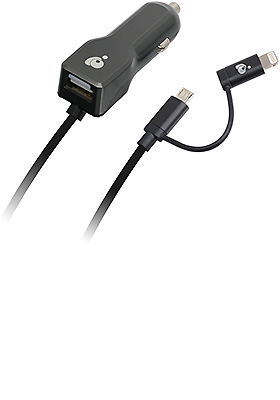 Buy this item and earn 16

Club

Points.
GPACML01: 2-in-1 (Lightning & micro USB) GearPower car charger
Keep your iOS and micro USB devices charged and ready to go while on the road with IOGEAR's DuoLinq™ 2-in-1 car charger. This universal car charger is designed to work with both Apple and Android devices.
DuoLinq™ car charger delivers 2.4A output to rapid charge all your power hungry devices, even tablets. Stream your favorite road trip playlist, movies, games and utilize GPS apps like Google Maps or Waze without ever worrying about running low on power. An integrated 2-in-1 Lightning and micro USB charging cable with an additional USB port offers the flexibility of charging cross-platform devices simultaneously.
One Cable to Charge Them All
IOGEAR's DuoLinq™ design eliminates the need for separate charging cables by integrating two connectors into a single cable. The micro USB connector is used for Android, Windows and Blackberry devices, while the Lightning connector is compatible with Apple iOS devices.
To charge iOS devices, simply snap on the attached Lightning connector adapter to the micro USB connector and you're ready to go. To charge Android, Windows, or Blackberry devices, plug the micro USB connector directly into the device. Designed with durability in mind, DuoLinq™ car charger's integrated 2-in-1 charging cable comes equipped with an ultra-durable polyurethane material that can withstand prolonged wear-and-tear.
Powerful, yet Compact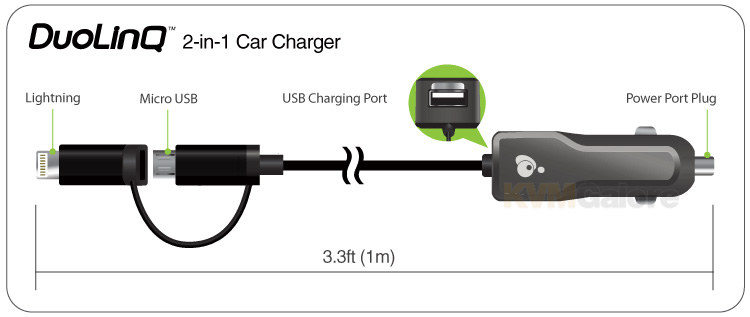 DuoLinq™ car charger gives you 2.4A of power in a package so small you'll barely notice it on your dashboard. The compact, low-profile power adapter fits perfectly into the cigarette lighter plug or 12V power port. DuoLinq™ car charger sits nearly flush when plugged in, so it does not interfere with shifters or drinks in cup holders. The compact design allows it to fit easily inside a purse or backpack, making it easy to transfer between vehicles. The conveniently integrated 1m (3.3 feet) cable is long enough to reach either driver or passenger from the center of the vehicle without excess length to tangle.
Road Warrior
Staying connected can drain your device's battery rapidly. With DuoLinq™ car charger, you can rest assured that your devices are charged between destinations. Charging your device while in the car is a convenient solution to keeping your devices charged by the time you reach the office, school or other destination. The extra USB port also doubles your charging potential by allowing you to charge two devices simultaneously. With DuoLinq™ car charger, you can arrive with a full charge, every time.
Features and Benefits
• Built-in DuoLinq™ 2-in-1 charging cable (micro USB + Lightning)
• 2.4A output rapid charges all Apple Lightning™ equipped devices or Android devices
• Additional 5V 1A USB charging port
• Compact design plugs into any vehicle lighter socket or 12V power port
• Flexible 1m (3.3ft) length cable
• Strain relief connector for maximum durability