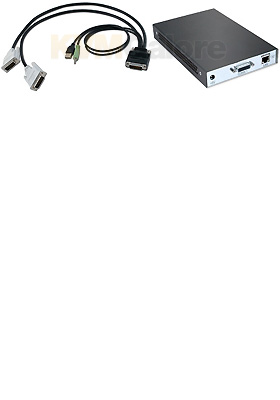 Buy this item and earn 1,235

Club

Points.
Extend Your Desktop any Distance from the Computer over a Standard TCP/IP Network - USB, Dual-DVI-D, Audio HMX IQ Module (Computer Interface Module - CIM/Transmitter).
Desktop over IP solutions are designed for desktop administrators who need to physically separate the computer from the user in the work environment. Physical separation of computer and user provides solutions where security and/or environmental issues are major concerns.
HMX extender system access over IP solution provides the ideal solution for these environments. The HMX system can be easily deployed over a local area network (LAN) and supports a comprehensive range of peripherals, including DVI-D video, CD audio, USB mass storage, keyboard, mouse and many USB devices.
Target computers can be connected to the TCP/IP Area Network using an HMX IQ module (also called transmitters). All HMX IQ modules/transmitters are hardware based and require no software or drivers to be loaded onto the target computer. All HMX IQ modules/transmitters are OS independent, enabling the solution to function with Windows®, Mac®, Linux or Unix computers.
Enhanced Security
In many modern organizations, the competitive advantage, revenue and profitability of the organization are becoming increasingly dependent on the efficient use of computing resources and technology. In fact, more often than not, the revenue of a company may be directly dependent on or produced by the computing resources of the company. HMX takes proactive steps to protect the data and intellectual property that is crucial to the long term success of the company through a unique two part approach to added security.
While many companies security is strictly focused on external threats HMX allows companies to easily add more internal security measures. HMX can significantly limit the potential physical threats from accidental damage and unauthorized access to equipment by removing hardware from the user environment and allowing companies to move expensive equipment to secure centralized locations.
In addition system administrators can implement HMX to require secondary user authentication via the HMX interface as an extra layer of security with full centralized authentication and detailed access logs.
Rich User Experience
The user gets a rich computer experience, even though the computer is located remotely, including:
• Dual head DVI video up to 1920x1200
• USB 2.0 compatibility supporting many types of USB devices
• CD audio
• USB keyboard/mouse
• Interoperability between HMX1070 and 2050 families
• Full matrix switching capability
• Allows for USB keyboard/mouse plus USB human interface device, including pen tablets, touch screen monitors, jog/shuttle wheels, CAC readers and more
Secure Access
128-bit AES encryption on all data passing through the network and an authentication guarantee assuring that access to any computing resource is managed securely.
Ethernet Operation
Allows the computer and user to be located anywhere on the GIG-e required network with full routing of data across routers, switches and subnets.
Full Hardware Solution
No software or drivers required; provides access regardless of the state of the operating system (OS) or BIOS.
Digital KVM Matrix
• A powerful upgrade to traditional analog KVMs
• Full matrix switching over TCP/IP
Features and Benefits
• Eliminates Distance Limitations within the LAN – Allows computers and users to be located anywhere on the network
• High-Quality DVI Video and CD Audio – For intensive graphic and audio applications
• Centralized Management – Via a single console, including access, desktop pooling and reporting
• Greater Security – 128bit AES encryption for secure access
• No Dedicated Cabling – Removes the need for dedicated cabling between user and computer
• Digital DVI Video – Up to 1920 x 1200
• USB Support – USB media and most other USB devices including USB keyboard/mouse as well as vUSB
• Interoperability – Between the HMX extender single- and dual-video, high-resolution products