HighSecLabs store on KVMGalore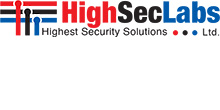 HighSecLabs offers the following product lines:
HighSecLabs (HSL) develops high-quality, customized cyber-defense solutions addressing a wide variety of organizations, from government agencies, to military, command & control, and finance - to name just a few verticals.
HSL patented technologies focus on cyber prevention tools for the desktop, covering the whole spectrum from user desktop to the data-center. Achieving highest security recognition, HSL patented many new technologies in the fields of networks isolation and cyber protection.
The company's extensive research and development expertise position it to provide uniquely tailored testing and R&D services to leading vendors in the field. HSL services meet vendor requirements complying with harshest security and quality standards.
With dozens of patents submitted, HSL is dedicated to developing innovative solutions installed worldwide in conference rooms, mobile and stationary command centers, trading floors, military divisions and more.
HSL designs next step technologies for protecting national security assets, infrastructures and critical IT resources from cyber attacks. HSL's mission is to provide user-friendly, easy to learn and operate solutions even for the most demanding, intensive, complex environments.
HSL is a privately-held company with a global reach. It is headquartered in Israel and is represented by its network of partners in more than 20 countries around the world.
As a proven technology leader, HSL is trusted by its partners and customers to provide the right solution at the right time meeting the right budget.
HSL engineering team is formed from industry experts in the areas of information security, defense electronics, software and integration, with a wide selection of in-house capabilities and expertise.
Common Criteria EAL 4+ approved and NIAP listed 2- 4- 8- and 16-port high security DVI & VGA KVM + audio switches supporting USB & PS/2 keyboard/mouse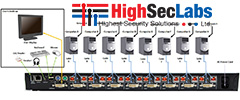 Quad multiview KVM switches provide secure isolation between 4 connected computers, all 4 videos viewed on 1 or 2 displays, 1 keyboard/mouse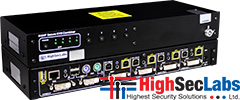 Manage EAL 4+ secure keyboard and mouse operations on 4 or 8 isolated computers with mouse-cursor switching and multiple screens per computer