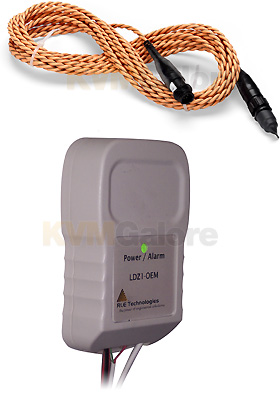 Protect a room or a data cabinet with a perimeter water-detection system
Surround the periphery of a room or encircle rows of data cabinets with this water-sensing cable that detects liquid along the whole length.
Put this cable around the periphery of your server room or around data cabinets and get early warning of water entry. Get an e-mail or page when water hits.
Detect moisture over a wide area. This cable detects the presence of water or other conductive liquid over its entire length.
Typically used to protect computer server rooms from water damage, Watchdog WaterSnake attaches to a Watchdog. When water is detected, the Watchdog climate monitor sends alerts by e-mail or SNMP trap.
The sensing cable (orange wire) attaches to the floor using small nylon J-clips. The sensing cable connects to the leader cable which attaches to the wall-mounted interface box. Signals from the interface box run to the Watchdog. A LED on the box provides a visual indication of system status.
The system uses two Watchdog I/O ports. Reports when the cable is wet, disconnected or faulty.