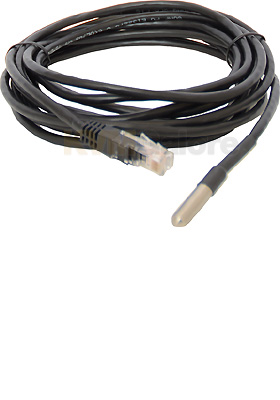 Add remote temperature sensors to your Watchdog environmental monitor
to monitor hot spots in your server or equipment room
---
Monitor temperature to identify hot spots, and adjust the ambient temperature of your data center to reduce cooling power consumption while increasing efficiency within ASHRAE guidelines.
Use these accurate digital sensors to measure temperatures of critical locations in a server room. The small size and weight makes them easy to install where you need them. Stick one in the cabinet inlet and one in the outlet to diagnose air-flow problems. Put one in the A/C vent to detect problems at the source. Accurate to +/-0.5°C. Run them hundreds of feet from the Watchdog monitor.
SRTs are improved temperature sensors which are encapsulated with a stainless steel sheath probe sealed with waterproof heat shrink tubing. This provides abrasion resistance and environmental protection against dust and moisture. This allows SRT temperature sensors to carry an IP67 rating, supporting applications related to cold storage and the ability to submerge these probes in water or glycol for liquid temperature monitoring.
These are instant 'Plug & Play' sensors via one of the standard RJ-12 jacks on any Watchdog environmental monitor. A Watchdog environmental monitoring appliance cycles through the digital sensors to collect and log new readings. Custom alarms are triggered when a sensor value falls above or below a user-defined threshold. Alarm notifications are sent through email or SNMP.
The standard temperature probe measures 1.25" (3.18 cm) in length.
Watchdog digital sensors such as these SRTs communicate with Watchdog environmental monitors through a digital serial protocol. On those units that support digital sensors - up to 16 can be added by using splitters. The Watchdog environmental monitor auto detects the sensor type and identifies it on the web interface. Each digital sensor can be given a "friendly" name that can be set by the user. Sensors are available in several different lengths, however the total cable length of all digital sensors combined should not exceed 600 feet.