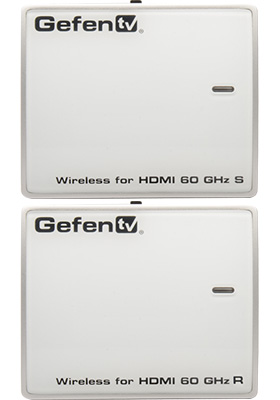 Buy this item and earn 312

Club

Points.
GTV-WHD-60G: Wirelessly extend high resolution HDMI video at 1080p Full HD
with lossless 7.1 channel digital audio up to 33 feet (10 meters)
---
GefenTV Wireless for HDMI 60 GHz extender system sends high definition audio and video to any HDTV display up to 33 feet (10 meters). It extends HDMI A/V content from computers, set-top boxes, and Blu-ray players to a remote HDCP-compliant Hi-Def display.
Gefen's Wireless for HDMI 60 GHz is designed for any in-room transmission of high quality, 1080p full HD video up to 33 feet (10m). It delivers 3DTV, is plug and play and supports all audio formats including the new lossless High Bit Rate (HBR) 7.1 channel Dolby True-HD and DTS-HD Master Audio. The ability to pass through uncompressed video, lossless audio and 3DTV is ideal for cutting-edge, high performance commercial or residential installations.
This extender uses the best technology currently available for an impeccable method of wireless extension that takes full advantage of the WirelessHD specification, which is based on the 60 GHz EHF (Extremely High Frequency) radio band. This high quality method of extension eliminates the need to run cables, making it a great solution for retrofits or any environment that wants to streamline cabling.
This wireless product is comprised of small table-top Sender and Receiver units. It supports resolutions up to 1080p Full HD, 3DTV, CEC, and 7.1-channels of High Bit Rate (HBR) lossless digital audio such as Dolby® TrueHD, DTS-HD Master Audio™.
GefenTV Wireless for HDMI 60 GHz is specifically designed to transmit within a room. Its signal will not penetrate through walls, facilitating interference-free operation of multiple units in adjacent venues and close proximity. Line-of-sight placement of transceivers, however, is not necessary.
Due to its in-room transmission and use of the uncluttered 60 GHz frequency band, this extender can perform seamlessly alongside other wireless devices in adjacent rooms with zero interference. It is very easy to install, requiring a connection of the video source to the sender and of the display or projector to the receiver. Content is transported wirelessly at 4Gbps from source to display. This extender also features a small footprint and a compelling MSRP. Included is a risk-free warranty backed by Gefen's reputation and well-regarded customer support team.
Thanks to its small form-factor, high performance, and near-zero latency, this product is ideal for high-definition A/V extension within a conference room or home theater installation.
User Application
Ideal for high end home theater applications optimized for High Bit Rate lossless 7.1 channel audio such as Dolby® TrueHD and DTS Master Audio™ and best possible 1080p Full HD picture, where the head-end equipment is located remotely from the display or projector. Also perfect for presentation venues such as board rooms and conference centers where presentation equipment such as laptops need to be connected to remotely mounted displays and projectors.
How It Works
Connect the included HDMI cable from the Hi-Def source to the Sender unit. Connect the other included HDMI cable from the Receiver unit to the HDTV display. Connect the power supplies to both the Sender and Receiver units and to available electrical outlets. Power-up the source and the display. Press the power buttons on the Sender and Receiver units and make sure that they are on. A clear and vivid Hi-Def picture will appear on the screen and high resolution 7.1 channel audio will be played back through the audio system. CEC commands are also transferred seamlessly between connected HDMI components.
Supported HDMI Features
• HDCP pass-through
• 3DTV pass-through
• CEC pass-through
• Dolby® TrueHD, DTS-HD Master Audio™, and LPCM digital audio streams up to 7.1 channels
• Lip Sync
Features and Benefits
• Wireless extension of HDMI up to 33 feet (10 meters)
• Supports resolutions up to 1080p Full HD
• Uncompressed High Definition A/V from source to display
• Near zero latency (less than one frame)
• Specifically designed for in-room operation only.
• Operates in the uncluttered 60GHz frequency region, minimizing the chances of interference from household devices • such as cordless phones chances of interference from household devices such as cordless phones or WiFi equipment
• Field upgradable via USB port
Package Includes
(1) Wireless for HDMI 60GHz Extender System - Sender Unit (GTV-WHD-60GS)
(1) Wireless for HDMI 60GHz Extender System - Receiver Unit (GTV-WHD-60GR)
(2) 4 ft. HDMI Cables M-M (CAB-HD-04MM-O)
(2) 5V DC Power Supplies (EXT-PS52AIP-O)
(1) Quick-Start Guide (QSG-GTV-WHD-60G)