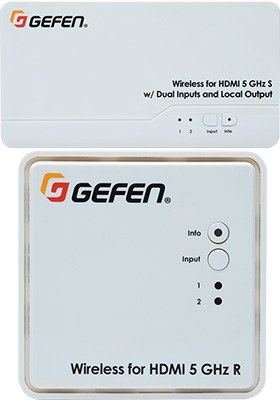 Buy this item and earn 346

Club

Points.
EXT-WHD-1080P-LR: Wireless extender for HDMI 5 GHz

HDMI without wires up to 100 feet
---
Wireless for HDMI 5 GHz LR (Long Range) extender system sends high definition audio and video to any HDTV display up to 100 feet (30 meters). It extends HDCP-compliant HDMI AV content from computers, game consoles, set-top boxes, Blu-ray players, and other AV sources to a remotely located display.
HD resolutions up to 1080p Full HD, 7.1 channels of LPCM digital audio, and 5.1 channels of Dolby® or DTS® formats are supported.
This wireless system is comprised of a Sender and a Receiver unit. Both units can be attached to a standard ¼"-20 camera tripod mount, wall mounted, or be placed on a shelf. The small and low-profile Receiver unit includes a wired IR Extender module, and can be hidden away behind the display or inside an equipment cabinet if needed.
The Sender features two HDMI inputs and an HDMI output for connection to a local display. The end-user can select between the two HDMI sources by using the included handheld IR remote or by pressing the Input button on the Sender or the Receiver unit. The included IR emitter array can be connected to the Sender unit and attached to the IR sensor windows of the two Hi-Def sources, allowing full control of the source unit from another room simply by pointing the IR remote of the source at the Receiver unit.
This wireless extender system is ideal for high-definition AV extension in a conference room, classroom, auditorium, home theater, and multiform AV installations that feature multiple sources and two displays. Up to eight Sender units can be accessed by a Receiver, one at a time, using its handheld remote control.
Wireless for HDMI 5 GHz LR extender system can transmit through walls and does not require line-of-sight placement of its transceivers.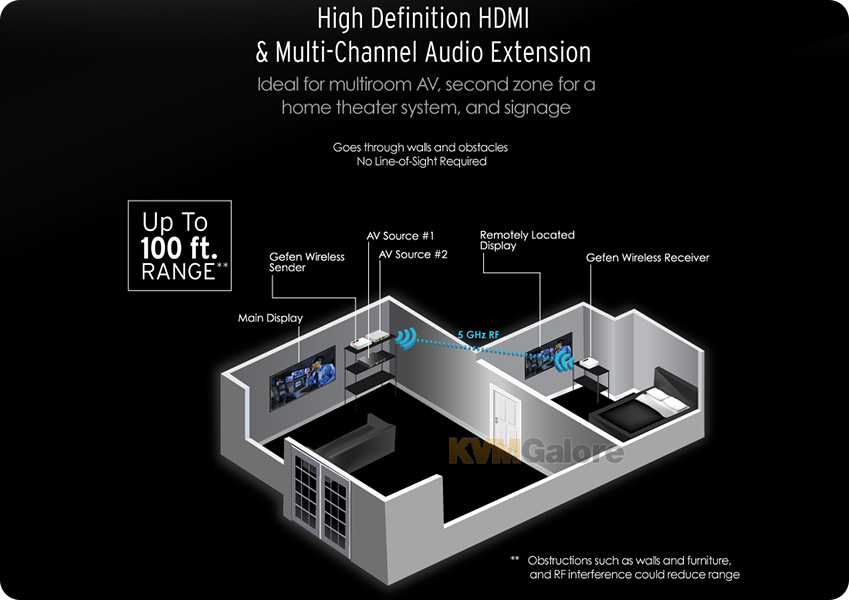 HDMI Features Supported
• CEC
• 12-bit Deep Color
• 3DTV pass-through
• HDCP pass-through
• Lip Sync
Sender unit
• 2 HDMI Inputs
• Local HDMI "Mirrored" output
• IR Output port and included Emitter Array for source control
• Ideal for use with 2 sources in a fixed home theater type installation
• Flexible mounting options: ¼"-20 thread, wall mounting, shelf placement
Receiver unit
• IR Extender module included for hidden installations
• Small and compact form factor - can be installed behind the TV
• Flexible mounting options: ¼"-20 thread, wall mounting, shelf placement
Features and Benefits
• Wireless extension of HDMI up to 100 feet (30 meters)*
• Supports resolutions up to 1080p Full HD, up to 7.1 channels of LPCM digital audio, and up to 5.1 channels of Dolby® and DTS® formats
• Transmits through obstacles - does not require line-of-sight
• Long Range performance makes it ideal for multi-room use
• IR Back Channel for source control with carrier frequency selector
• Uncompressed High Definition A/V from source to display
• Less than 1 frame latency
• AES 128 Encryption
• Compatible with legacy DVI displays
• Handheld IR remote for easy setup and operation
• Firmware update via Mini-USB port using Gefen Syner-G™ software
• WHDI 1.0, FCC Part 15, IC, and ETSI-compliant
• Additional Sender units (EXT-WHD-1080P-LR-TX) available separately**
Package Includes
(1) Wireless for HDMI 5 GHz LR Sender Unit
(1) Wireless for HDMI 5 GHz LR Receiver Unit
(2) 5 ft. HDMI Cables (M-M)
(1) 5 ft. USB to Mini USB Cable
(1) 3 ft. USB to DC plug Cable
(2) 5V DC Power Supplies with changeable AC plugs
(1) IR Remote Control
(1) IR Emitter Array Cable
(1) IR Extender Module
(4) Screws and Wall Anchors - for wall-mounting the Sender and Receiver
(1) Quick-Start Guide
* Obstructions such as walls and furniture, and RF interference could reduce reception distance. This product operates in the 5 GHz RF region, and features a specific number of channels. Other 5 GHz Transmitters including WiFi Routers may be occupying the same channels and may cause reception issues. See the User Manual for recommendations to help reduce interference.
** Due to different transmission power levels, mixing of EXT-WHD-1080P-SR and EXT-WHD-1080P-LR Senders is not recommended. Furthermore, GTV-WHD-1080P-SR and GTV-WHD-1080P-LR Senders are not compatible with this product.