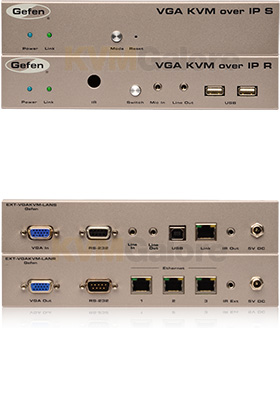 Extend and distribute VGA, USB, RS-232, infrared (IR) and 2-way audio over a Gigabit local area network
for a matrix of multiple users accessing and controlling multiple VGA KVM sources
---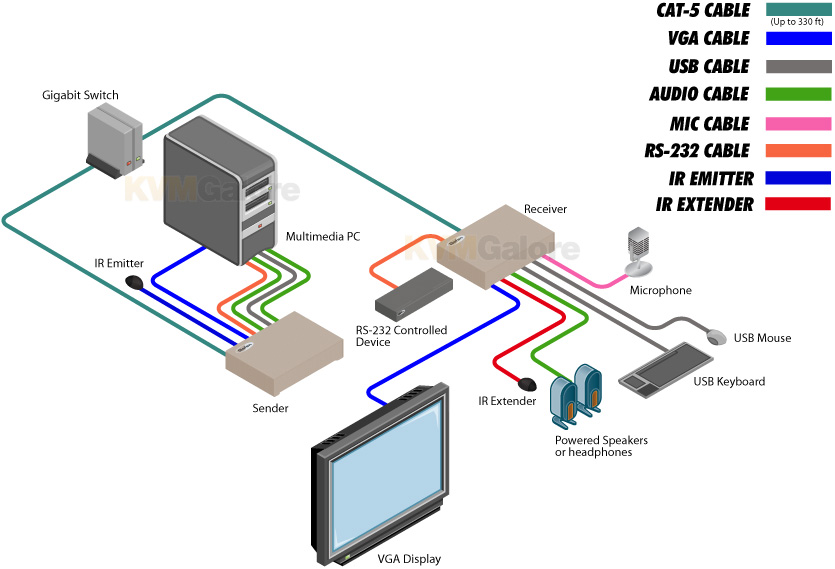 VGA KVM over IP extends VGA, USB, 2-way analog audio, RS-232, and IR, over a Gigabit Local Area Network. VESA and CEA resolutions up to WUXGA (1920x1200 at 60Hz) and 1080p Full HD (1920x1080 at 60 Hz) are supported. Gen 2.0 KVM products offer enhanced performance, features, and functionality such as built-in scalers, video-wall control, independent USB, RS-232, IR, and audio routing**, and backward-compatibility with Gefen's first-generation products.
The Sender and Receiver units can be automatically or manually configured to unique IP addresses to allow the connection of multiple Senders and Receivers to the same network.
Gen 2.0 Receiver features a built-in scaler to help optimize the image for a variety of displays and different viewing environments. It also includes a powerful video wall controller that accommodates any screen configuration up to 16x16 and provides great flexibility in sizing and manipulating live and signage content in demanding installations.
Multiple Receiver units can simultaneously connect to any Sender unit within the network to create a virtual crosspoint matrix environment where any source can be routed to any or all displays, supporting up to 39,900 Senders and a combination of over 65,000 units.
Each Receiver unit has a built in Ethernet switch and two additional RJ-45 Ethernet ports to allow for the connection of computers and other IP-enabled devices.
USB 2.0 data rates up to 480 Mbps are supported in addition to backward-compatibility with USB 1.1.
Each Receiver unit allows the connection of two USB devices with up to 500mA current draw per port, providing access to keyboard, mouse, printers, scanners and cameras.
Bi-directional analog audio capability allows audio to be transported between the Sender and the Receiver units. Built-in mic pre-amp on the Receiver unit ensures compatibility with a variety of microphones.
Infrared (IR) commands from the Receiver side can be extended to sources located by any of the Senders.
RS-232 serial control can also be extended between each Sender and the Receivers.
Built in web server interface makes set up and configuration simple and intuitive.
VGA KVM over IP is perfect for large scale remote workstation access, and for digital signage applications.
** Pending features to be activated via an upcoming firmware update