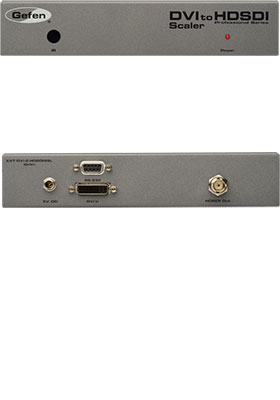 Buy this item and earn 936

Club

Points.
EXT-DVI-2-HDSDISSL: Convert DVI to HD-SDI
single-link scaler box enables compatibility between SDI and DVI devices and combines SDI and DVI equipment for maximum interoperability
---
The DVI to HDSDI Single Link Scaler is part of Gefen's HDSDI conversion line incorporating single link DVI-D conversion scaled to SD/HDSDI Single link modes. Resolutions of up to 1080p are supported over the HDSDI link for those that want true "High Definition".
Performance has been greatly enhanced due to Gennum's VXP Scaler onboard, allowing for new features such as Color & Gamma Correction, Noise Reduction, Detail Enhancement, Aspect Ratio Selection, Pattern Generator Mode, & Multiple Language Menu Support.
The Bottom Line? -- More performance, less cost.
How It Works
DVI devices are connected to the DVI input and SDI devices are connected to the SDI output. When the source, display and the Scaler are powered and connected, video signals are converted to the proper format.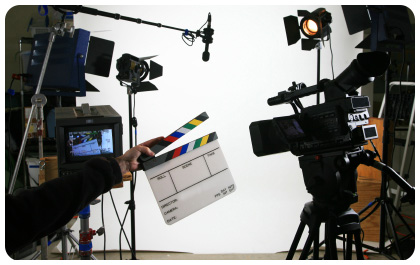 Features and Benefits
• 10-bit resolution for greater precision and dynamic range
• Proprietary 10-bit motion adaptive video de-interlacing with edge interpolation for HD / SD formats
• Advanced noise reduction and detail enhancement
• Max. active image size of 2048 samples x 2048 lines PBP processing for various combinations of video and graphics with alpha blending
• Fully integrated sprite based multi-plane OSD controller.
• Frame rate conversion to / from any refresh rate
• Pattern mode w/ color bars & cross-hatch patterns
• Color correction
• Noise Reduction
• Detail Enhancement
• Brightness Adjustment
• Gamma Selection
• Aspect Ratio Select
• Custom Timing output mode
• French/English Menu Set
• RS-232 upgradeable firmware
• RS-232 and/or IR Control
• Lifetime support
Package Includes
• DVI to HDSDI Single Link Scaler
• 5V DC Power Supply
• RMT-8HDS-IR Remote Control
• User's Manual
• Rack Ears