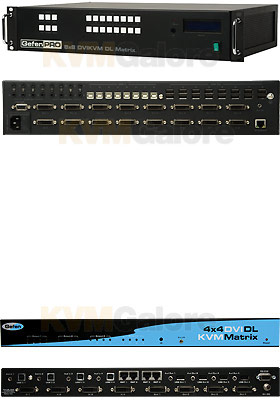 DVI Matrix KVM Switches
Switch any 4 or 8 DVI HDCP compliant sources or dual-link DVI computers to any 4/8 DVI workstations, with USB keyboard/mouse and speakers
Read more below...

$1,079.00
Compare to MSRP $1,544.00 -
You save $465.00

$5,056.00
Compare to MSRP $7,224.00 -
You save $2,168.00
4- and 8-port DVI-USB-audio KVM switches supporting dual-link DVI and HDCP compliant
Now you can easily switch four (4) or eight (8) cross-platform computers to four or eight digital displays. Gefen's DVI Matrix KVM switches provide a simple, reliable and highly effective method of creating multiple computer workstations, with each workstation capable of accessing any one of the computers or sources at any time by remote control.
When used with computers, USB and audio matrix control signals follow the DVI input for optimal control.