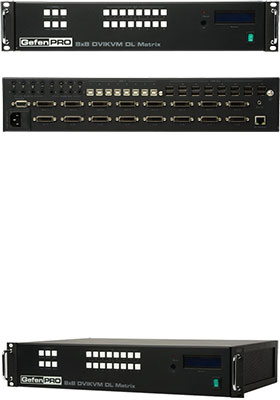 Buy this item and earn 5,056

Club

Points.
GEF-DVIKVM-848DL-PB: Route any of eight (8) computer sources with DVI, USB and audio to any eight (8) KVM workstations
8x DVI dual-link inputs, 8x DVI dual-link outputs, USB and audio with front panel push button control and discrete IR remote control
---
GefenPRO 8x8 DVIKVM Dual Link Matrix with Push Button Control provides a professional-grade KVM solution to route DVI, USB, and Audio from any eight computers to any eight Hi-Def workstations.
Dual link resolutions up to 3840x2400 are supported. Audio can also be routed with the video using mini-stereo cables to provide full multimedia content for digital signage applications.
The front panel display shows the current routing status and the front panel push buttons are used to manage local source routing.
Four methods are available for controlling the GefenPRO 8x8 DVIKVM Dual Link Matrix:
• Front panel push buttons
• An included IR remote
• A built-in RS-232 interface, or
• IP control via the built-in Web interface
How It Works
Connect up to eight KVM source devices to the GefenPRO 8x8 DVI KVM Dual Link Matrix with Front Panel Push Button Control using the supplied DVI cables. Connect up to eight monitors to the DVI outputs. Connect the USB devices (keyboard, mouse device, etc.) to the USB input and output connectors. For audio, connect mini-stereo cables between each audio source and the audio inputs on the Matrix. Connect the mini-stereo cables between the audio outputs on the Matrix to the audio device. Plug in the power cord and apply power to the Matrix. The DVI, USB and Audio sources will be routed according to the current routing selection.
Note: This product only supports digital DVI (DVI-D).
Features and Benefits
• Supports resolutions up to 1920 x 1200 and 3840 x 2400
• Routes DVI, USB, and Audio sources simultaneously
• Advanced EDID management permits upload of custom internal or external EDID settings
• Programmable routing presets
• Output masking command
• Front panel control buttons for local switching
• Status LCD (shows routing status)
• Serial RS-232 interface for remote control via a computer or control automation devices
• IR Remote Control
• Built-in IR Extender
• IP Control
• Grounding Pin
• Internal Power Supply
• Standby mode
• Supports DDWG standards for DVI
• Power ON / OFF switch
• Rack-Mountable
Package includes
(1) GefenPRO 8x8 DVI KVM Dual Link Matrix with Front Panel Push Button Control
(8) 6 ft. DVI Dual Link Cables (M-M)
(8) 6 ft. USB Cables (A-B)
(8) 6 ft. Audio Cables (Mini-Stereo)
(1) RMT-848IR IR Remote Control
(1) AC Power Cord
(1) User Manual
Note: Even though this switch uses DVI connectors – it will also pass integrated HDMI audio through the DVI connectors, simply by using DVI-HDMI cables (or DVI-HDMI adapters) to connect to your computers and user-consoles.