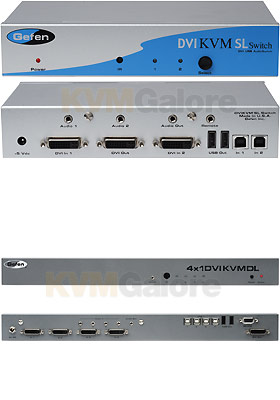 2- 4- and 8-port DVI-USB KVMA switches controlling PCs and Macs
through one USB keyboard/mouse, one DVI single-link or dual-link display and sharing a set of speakers
---
This family of DVI switches now allows you to implement KVM switching with the most innovative DVI digital display formats.
Now you can switch easily and reliably between any two, four or eight (PC or Macintosh) computers while sharing one DVI flat panel display monitor, one USB keyboard and mouse, and speakers.
Models designated with "DL" support high-resolution Dual-Link DVI. Dual-link DVI uses all 24 pins of the DVI connector to achieve ultra high video resolutions up to 3840x2400.