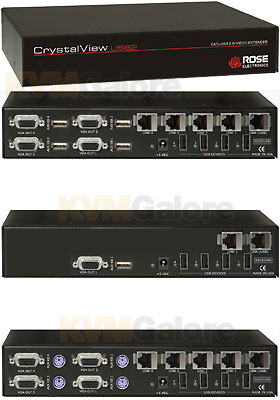 KVM with single, dual or quad video + USB 2.0 peripherals extender
CrystalView USB2 extender is the extender of choice for extending video and USB devices up to 330 feet from the controlling computer. The CrystalView USB2 extender makes this possible by the use of standard CATx cable. You can view video and fully operate and control your USB devices from as far away as 330 feet using standard CATx cable.
Remotely accessing your USB devices is made convenient in a variety of situations. You can locate users away from hazardous industrial environments where the USB device is located, locate devices away from areas vulnerable to theft of hardware and data, reduce noise and heat; increase desk and floor space.
CrystalView USB2 transmit high quality video using CATx cable. Cable length is no problem. CrystalView USB2 automatically adjusts the video compensation and gain based on the cable length. Locate a video monitor in remote control areas, classrooms, conference areas, video studios, and present the video and audio from a computer 150' away.
CrystalView USB2 extender system consists of a transmitter and a receiver unit. The transmitter unit connects to your computers USB port and VGA port. Connect up to four USB 1.1 or 2.0 device and monitor. The transmitter and receiver units are connected together with up to 330 feet of standard CATx cable.