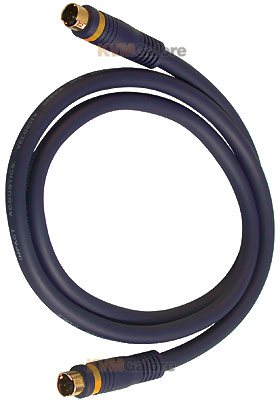 Connect Hi-8, S-VHS and extended bandwidth PVR products to your home theater system
Connect digital camcorders, satellite receivers, DVD players, PC with TV out or any video source with S-Video output jacks to a TV, monitor or A/V receiver with S-Video input jacks. C2G's Velocity™ S-video cables also provide the right solution for connecting extended definition video recorders or digital satellite systems to your A/V receiver or television/monitor. Carefully designed dual 75 Ohm precision video conductors ensure optimal video quality.
Individually shielded Y (luminance) and C (chrominance) conductors are combined with an overall aluminum foil and OFC braid shield to protect against radio frequency interference (RFI) and electromagnetic interference (EMI). These cost-effective high-performance cables ensure maximum video quality when compared with S-Video cables typically included with consumer electronics products.
Oxygen-free copper wire and the 24K gold-plated OFC connectors deliver all the detail, color and brightness you expect from your S-Video component. Fully molded connectors provide excellent strain relief while the stylish, ultra-flexible PVC jackets enhance cable durability for years of audio/video enjoyment.
Note: In addition to fitting standard 4-pin S-Video jacks, the Velocity S-Video cables fit most 7-pin jacks found on desktop and laptop PCs with a TV out jack.