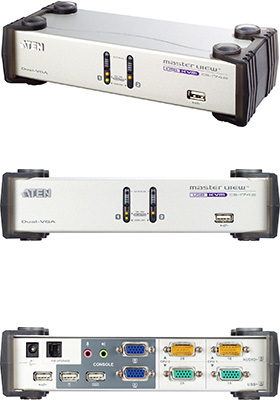 Buy this item and earn 199

Club

Points.
2-port USB dual-view KVM switch
with sound and peripheral sharing
---
The Dual-View CS-1742 USB KVM Switch brings dual head video functionality to ATEN's USB KVM switch technology. Now, two dual-display computers can be accessed and controlled from a single console that consists of a USB keyboard, USB mouse, and two VGA, SVGA, or Multisync monitors.
In addition, the CS-1742 incorporates a two port USB hub that allows each of the computers to share any USB peripherals connected to the hub on a one computer at a time basis.
Recognizing the importance of sound, the switches are also audio enabled. A single microphone can provide audio input to each of the computers, and you can listen to the audio output of each computer on a single set of speakers (on a one-at-a-time basis).
Features and Benefits
• One console controls two computers
• Additional VGA display channel provided for dual display of each computer
• Additional two USB ports for USB device sharing between two connected computers
• Audio jacks provided for speaker and microphone sharing
• Independent switching of KVM, USB, and audio
• Easy to install - no software required - connecting cables is all it takes
• Easy to operate - computer selection via push button switches or hotkeys
• Auto Scan function to monitor computer operation
• Hotkey selection for OS and keyboard language
• LED display for easy status monitoring
• Caps Lock, Num Lock, and Scroll Lock, states are saved and restored when switching
• Hot pluggable -add or remove computers for easy maintenance
• Firmware upgradable
• Keyboard and mouse emulation for error free booting
• Supports Windows 98SE or higher, Mac OS 8.6 or higher, SUN Blade 2000/100, (Sun Solaris 8 or higher) Linux and Unix
• Supports multimedia USB keyboards Supports Mac & Sun keyboards
• Supports all mice with native driver installed
• Supports Logitech and Microsoft wireless keyboards and mice
• Superior video quality - up to 2048 x 1536; DDC2B
Package Content
1x CS1742 USB KVM Switch
2x Custom Audio/Video Cables (6 ft long)
2x Custom USB/Video Cables (6 ft long)
1x Firmware Upgrade Cable
1x User Manual
1x Quick Start Guide