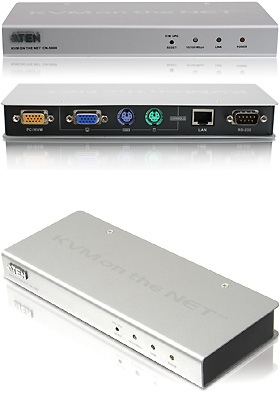 Buy this item and earn 356

Club

Points.
Single-port, PS/2, IP KVM over IP gateway
Note: This product is approaching its end of life (EOL) and is available while supplies last. Sale is final - this item is not eligible for returns.
CN5000 is an IP-implemented KVM solution that allows network administrators to access computers from any station connected to the network, whether from the LAN, WAN, or the Internet.
Network administrators can enjoy freedom from being bound to the server room; work from anywhere in the office, remote locations, or even from home! You can remotely access attached KVM switches, allowing remote control of the attached servers to perform many tasks with ease and speed, such as installing and running GUI applications, routine monitoring, BIOS level troubleshooting, system maintenance, system administration, and rebooting. It supports 10 Base-T, 100Base-T, TCP/IP, and HTTP through the Java Client.
CN5000 provides 3-level password protection, advanced encryption technologies, sophisticated user filters and user management, stealth mode and automatic lockout to make sure that remote access is secure.
Combining with ATEN's power unit (PN0108) through the RS232 port, users can power on and off the connected computers through Internet.
Moreover, CN5000 supports Radius server. With ATEN's patented video comparison technology, the CN5000 provides true high resolution (up to 1600 x 1200 @ 60Hz) video quality and accurate mouse movement.
Features and Benefits
• Supports up to 64 user accounts
• Up to 16 users can log in at the same time for concurrentaccess to a server or multiple servers via a KVM
• Radius server support Remote access of KVM switches or servers via LAN, WAN or the Internet
• Protocols: TCP/IP, HTTP, HTTPS, UDP, RADIUS, DHCP,SSL, ARP, DNS
• Advanced security features: 1024 bit RSA encryption,256 AES, 56 DES
• 3-level password protection
• Windows GUI and Java-based client software
• Superior video quality-up to 1600 x 1200 @60Hz
• Firmware Upgradeable via RJ-45 Ethernet connection
• Remote boot up (with ATEN's power unit, PN0108)
• OS Compatibility: DOS, WIN 98, WIN ME, WIN 2K, WIN2003, WIN XP and LINUX
Package Content
1x CN5000 unit
1x Software CD
1x Power Adapter
1x PS/2 KVM Cable
1x Rack Mount Bracket
1x Quick start guide
1x User Manual