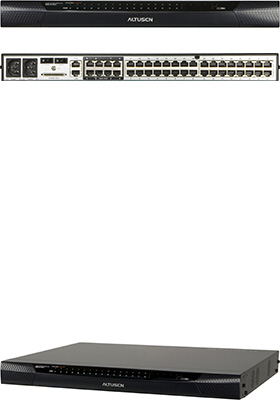 Buy this item and earn 5,985

Club

Points.
9-user, 32-port CAT-5 matrix KVM switch
with virtual media and audio support
---
Note: This product is approaching its end of life (EOL) and is available while supplies last. Sale is final - this item is not eligible for returns.
KM0932 Matrix KVM Switch gives IT administrators in large corporations advanced access and control of multiple servers. Operators working at up to 9 consoles can assume simultaneous and independent control of 32 directly connected computers, or through a combination of daisy chaining and cascading, as many as 8000 computers. A special feature will allow two KM0932 to be connected together in a way that allows 18 simultaneous operators independent access to 64 attached servers.
A dual power supply connected to different electrical circuits ensures continued operation in the event of a power failure on one circuit.
KM0932 allows for real time port control by an administrator over an RS232 connection. It is possible to close an operator's session, switch ports, or end an operator's connection to a port without closing the user's session.
Server access and control is easily accomplished by means of a convenient, intuitive, graphical user interface. In addition, once the initial network setup has been accomplished, server administration tasks may be managed over the internet or through your local network by using any web browser. The KM0932 also supports audio and virtual media when used in conjunction with a KA7176 CPU module and KA7240 console module (first tier only).
Features and Benefits
• Nine consoles independently and simultaneously control up to 32 directly connected computers
• Standardized graphical user interface – consistent across all Altusen products – saves on training time and costs – increases user efficiency
• Embedded web interface for easy system configuration
• Redundant power supplies
• Virtual media support – allows sharing of directly-connected USB storage devices to all servers connected with virtual media enabled adapter cables
• Power Association enables switch's KVM ports to be power controlled via associated Altusen PON products
• Dual root functionality allows you to expand your top-level KM0932 deployment to 18 consoles
• RS-232 port permits an administrator user logged in over the port to perform console and KVM port access and control
• Full KVM backup for restoring configuration
• Supports up to 1024 user and 255 group accounts
• Audio support for multimedia-capable devices combined with audio enabled adapter cables (see CPU and console requirements)
• Three level password security: super administrator, administrator, user
• Port level user access control through out the entire installation
• Up to 7 slave switches can be daisy chained from a master switch
• Switches can be cascaded to three levels to access and manage more than 8,000 computers
• Convenient computer selection via intuitive hotkey combinations or GUI
• The port list automatically expands when stations are added – port names are automatically reconfigured when the station sequence changes
• User's display automatically adjusts to resolution differences on the remote servers
• Auto Scan feature for monitoring user-selected computers
• Video resolutions 1280 x 1024 @ 60Hz up to 900 feet with Auto Signal Compensation (ASC) – no dip switch settings
• Compact design – rack mounts in only 1U of rack space
• A firmware upgrade can be performed simultaneously on all daisy chained and cascaded slave switches as well as connected adapter cables
• Scan – provides automatic monitoring of user-selected computers
Package Content
1x KM0932
2x Power Cord
1x Manual
1x Quick Start Guide
1x Rack Mount Kit
1x Firmware Upgrade Cable
1x Grounding Strap
1x Set of Rubber Feet for Desktop Use