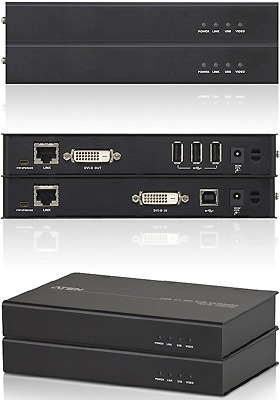 Buy this item and earn 1,145

Club

Points.
USB 2.0 DVI KVM extender over CAT-5e
using HDBaseT technology
---
CE610 is a DVI and USB extender that supports USB 2.0, HDBaseT technology, USB touch panels, and file transfer functionality. With HDBaseT support, CE610 USB 2.0 DVI KVM extender uses only one CAT-5e cable to extend DVI and USB signals up to 330 feet (100 m).
CE610 is equipped with USB connectors which allow you to extend any USB device between the units. The USB functionality provides not only peripheral sharing but also provides support for touch panel control and file transfer.
CE610 is ideal for situations where touch panel is required, such as transportation centers, medical facilities, shopping malls,and when synchronizing for files/folders between portable and desktop computers are required.
Features and Benefits
• Uses single CAT-5e cable to connect the local and remote units
• Allow access to a computer or KVM installation from a remote console
• Superior Video Quality – up to 1920x1200 @ 60 Hz at 330 feet (100 m)
• Anti-jamming - resists signal interference during high-quality video transmissions using HDBaseT technology
• Transparent USB Support – supports all USB 2.0 High Speed device
• Extends local PC Video/Keyboard/Mouse to Remote side
• Built-in 8KV/15KV ESD protection (Contact voltage 8KV; Air voltage 15KV)
• USB 2.0 Support: supports devices such as keyboard, mouse, fl ash drive, printer, microphone, speakers, USB web cameraand other USB 1.1 devices which require moderate amounts of bandwidth
• Supports USB transfer rates of up to 30 Mbps
Package Contents
1x CE610L DVI KVM Extender (Local Unit)
1x CE610R DVI KVM Extender (Remote Unit)
1x Custom DVI 1.8m Cable
1x 1.8 m USB Cable
2x Power Adapters
1x Mounting Kit
1x User Instructions