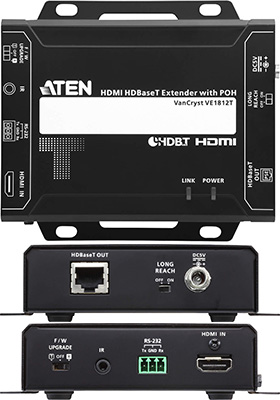 Buy this item and earn 682

Club

Points.
4K HDMI over single CAT-5 extender with PoH
using HDBaseT (class A) up to 330 feet, supporting Ultra-HD/4K, power over HDBaseT and bi-directional RS-232 and IR
---
VE1812 HDMI HDBaseT extender with PoH is the ideal solution for connecting equipment in remote locations up to 330 feet over a single CAT-5e/6/6a cable. With Long Reach Mode enabled, VE1812 can extend HDMI signal up to 490 feet @ 1080p.
VE1812 supports RS-232 and IR signaling pass-through, allowing you to control the HDMI source device from the receiver unit (VE1812R) while also accessing the HDMI display device from the transmitter unit (VE1812T). The IR signals can also be extended in both directions.
VE1812 features Power over HDBaseT (PoH) which sends power from transmitter (Tx) to receiver (Rx) over CAT-5e/6/6a cable without any additional power supply.
VE1812 is HDMI (3D, Deep Color, 4kx2k) and HDCP compliant. When transmitting HDMI / 4K with a CAT-6a or ATEN 2L-2910 CAT-6 cable, the maximum distance can reach up to 330 feet.
VE1812 is perfect for digital classrooms, video conference rooms, gaming or any installation that requires superior video quality.
Features and Benefits
• HDBaseT Connectivity - extends an HDMI connection over a long distance via one CAT-5e/6/6a cable
• Supports HDBaseT Long Reach Mode - Up to a maximum range of 490 feet @ 1080p
• 4K x 2K HDMI transmission distance up to 330 feet over CAT-6a or ATEN 2L-2910 CAT-6 cable
• HDBaseT Anti-jamming - resists signal interference during high - quality video transmission using HDBaseT technology
• PoH (Power over HDBaseT) - supplies power from Transmitter to Receiver over a long distance via one CAT-5e/6/6a cable
• Bi-directional RS-232 channel - allows you to connect to serial terminals or serial devices, such as touch screens and barcode scanners
• Bi-directional IR channel - Two way IR protocol delivery by one IR port; IR transmission is processed one direction at a time
• Rack- Mountable
Package Contents
1x VE1812 HDMI HDBaseT Transmitter with PoH
1x VE1812 HDMI HDBaseT Receiver with PoH
1x Power Adapter
1x IR Transmitter
1x IR Receiver
2x RS-232 Terminal Blocks
1x User Instructions