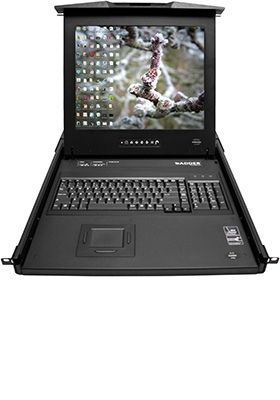 AdderView RDX 1000
High density 17" and 19" LCD rack trays with fully featured CATx-based 16-port USB, PS/2, Sun KVM switch for local and extended server control
Read more below...

$1,935.00
Compare to MSRP $2,150.00 -
You save $215.00

$2,385.00
Compare to MSRP $2,650.00 -
You save $265.00
High Density Rack Trays with Fully Featured 16-Port USB, PS/2, Sun KVM Switch for Local and Extended Server Control.
AdderView RDX 1000 is the complete server room solution with local and remote management. The 1U keyboard tray is available in most keyboard language layouts and features either a 17 inch or 19 inch premium quality Samsung SXGA 1280 x 1024 TFT LCD panel with touchpad control and advanced OSD for device selection.
Control 16 computers directly from the tray. Expand to support up to 256 computers using
CATx 1000
switches.