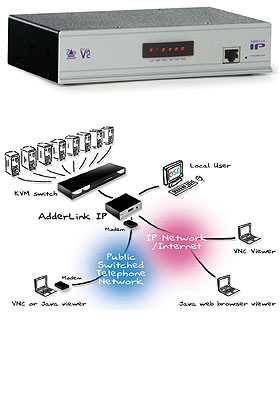 Secure Internet or dial up access to your KVM switch
Manage your computers from anywhere in the world with the AdderLink IP. The AdderLink only requires a KVM (keyboard, video, mouse) connection to your computers and doesn't need any software to be loaded on your servers.
AdderLink IP is fully compatible with VNC (Virtual Network Computing) and Java based (web browser) viewers, and doesn't require you to purchase extra software 'seat' licenses.
Developed in co-operation with RealVNC the AdderLink IP implements a full enterprise grade security architecture.
Configuration and control menus are generated using a uniquely elegant 'in-picture' system. Automatic adaptive compression enables users to connect 'in band' via their network or 'out of band' via a dial-up link.