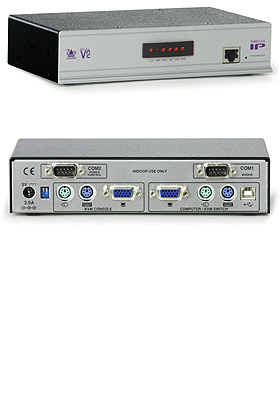 Buy this item and earn 887

Club

Points.
Secure, high-speed KVM over IP access to your KVM switch
Manage your computers from anywhere in the world with the AdderLink IP. AdderLink IP only requires a KVM (keyboard, video, mouse) connection to your computers and doesn't need any software to be loaded on your servers.
Designed jointly with Real VNC the AdderLink IP provides multi platform remote access to computers and servers in data centers & remote offices.
AdderLink IP is fully compatible with VNC (Virtual Network Computing) and Java based (web browser) viewers, and doesn't require you to purchase extra software 'seat' licenses.
Developed in co-operation with RealVNC the AdderLink IP implements a full enterprise grade security architecture.
Configuration and control menus are generated using a uniquely elegant 'in-picture' system. Automatic adaptive compression enables users to connect 'in band' via their network or 'out of band' via a dial-up link.
Independent operation
Gives full control even during boot up, BIOS level or computer crash states. AdderLink IP will work even if the controlled devices are not.
High video performance
AdderLink IP can use a standard web browser but for superior graphical performance Real VNC is used. Free of the limitations of HTTPS, Real VNC greatly enhances video performance.
Security
Employing enterprise grade security (using AES 128 bit encryption and RSA 2048 bit public key authentication) as standard, AdderLink IP is further enhanced by the use of Real VNC, allowing for the creation of ciphered user communications.
User management
Knowing who does what and when is crucial for any remote access service. AdderLink IP can create up to 16 user profiles each defines user access rights. Each user's activity is recorded and time stamped. The resulting log can be exported for historical review.
Power control
When attached computers crash or require resetting often the only solution is to power them off and back on again. AdderLink IP allows for the integration of power switching devices that can be control through the user interface.
Key Benefits
• Easy on screen display driven set up and configuration
• Enterprise grade security (using AES 128 bit encryption and RSA 2048 bit public key authentication) with 16 user profiles and access data logging
• Supports exclusive access mode or up to four simultaneous connections
• Feed through port provides local KVM console access
• Modem port and 10/100 Mb Ethernet port for dial-up and/or IP network access
• Power control functions supported via dedicated serial port
Bundle Consists of
1x AdderLink IP [ALIP-USA]
1x USB Converter Cable, 6-feet [CCUSB]