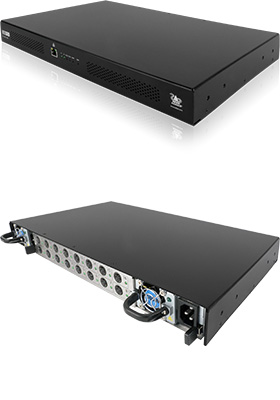 Buy this item and earn 1,980

Club

Points.
PSU-RED2-16: 16-port, Web controllable, rack-mount redundant power distribution unit
supporting 12V and 5V devices
---
Adder redundant power supply (RED PSU) provides your installation with the power to grow on demand. Housed within a 1U 19-inch rack mount module, RED PSU delivers sixteen lockable 12VDC power outputs, two hot-swappable power modules and remote management. Whether configured with redundant power or a single power supply, RED PSU is the perfect in rack power distribution solution, simplifying cable management and delivering remote flexibility to manage your devices.
Highlights
• 16-port independently controllable 12V outputs
• Two hot swappable power module
• Controllable via secure HTTP interface
• REST API for 3rd party control integration
• 500,000hrs MTBF ratings on power module
• 12V to 5V cable converters available for units with 5V power feeds
Power to match your needs
While individual Adder power adapters perform well, as your installation expands and its devices proliferate, separate adapters can become unwieldy and difficult to manage. RED PSU provides a significant step up in terms of efficiency, reliability and power management.
16-port power outputs with locking connectors
RED PSU offers 16 separate, lockable power output ports. Each output is limited to a maximum of 20 Watts at 12V and each uses a locking connector to guard against accidental disconnection.
Hot swappable power module
Conversion from the mains AC supply to low voltage DC occurs within two switched mode 460W power module, which slots into the rear of the RED PSU chassis. A single power module is rated at 500,000 hours MTBF and this can easily meet the needs of sixteen ports. However, in situations where redundancy is required, a second power module can be included in the second module bay. With two power modules fitted, the normal load will be intelligently balanced between them on an equal basis, with full load transferring immediately to one should the other cease operation.
Protection
Power integrity, safety and management are core elements of the RED PSU system. At start up RED PSU checks the validity of the power module(s). It then enables each of the power outputs in sequence to reduce the instantaneous load on the power modules. After start up each power output is protected by overlapping safety features that guard against excess demand by any connected device.
Web interface control
RED PSU can be controlled and monitored via a web interface. Temperature, fan speeds and individual current measurements are viewable and each output can be individually controlled. Web interface security is by HTTP digest authentication (RFC 2617) with username and password as requested information.
REST API
A REST (REpresentational State Transfer) API is available with all functionality to which authorized 3rd party control systems can interface.
12V to 5V converter for 5V products
Many existing Adder devices are powered from 5V supplies. An optional compact converter dongle allows 5V products to be used with the RED PSU, including the AdderLink Infinity range [purchased separately].
Package includes
• RED-PSU chassis with 16 power output ports
• Two power modules (pre-installed within the chassis) and country-specific power cords
• Four self-adhesive rubber feet
• Safety document