Hardware compatibility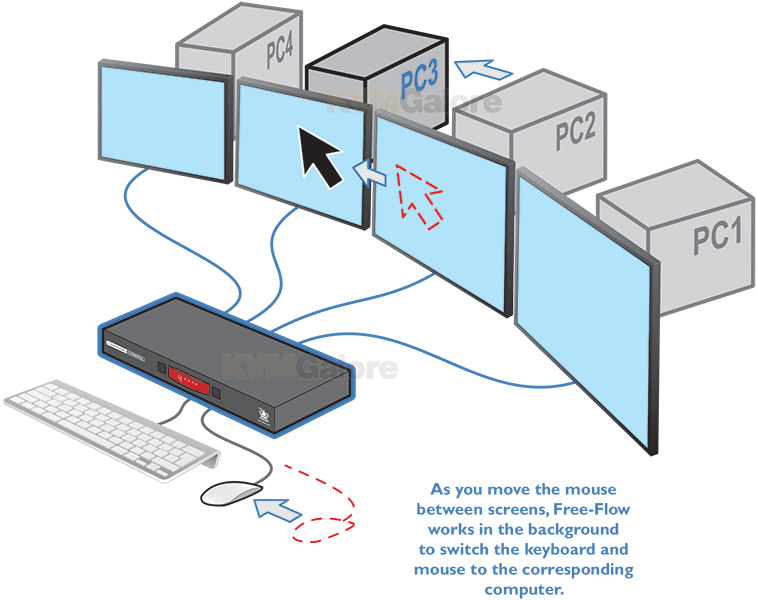 • All computers equipped with certified USB 1.1 and USB 2.0 connections
Software compatibility
• All known operating systems for single screens except Linux operating systems, which often have no native support for absolute mouse positioning.
• FreeFlow works by reporting absolute mouse coordinates.
• FreeFlow configuration and firmware upgrade programs are available for use with Windows only.
Computer connections
8x Audio 3.5mm in
8x USB Type-B
User console connections
1x Audio 3.5mm out
2x USB type A (Console - USB 2.0 Low and Full Speed), 2x USB type A (Enumerated USB 2.0 Low, Full and Hi-Speed)
1x 10P10C connector for upgrade cable or remote control RC4 4-button switch or RC8 8-button switch
10x 6P6C connecters for the CCS-LED modules
USB specification for console connection
• Standard: USB 2.0
• Supports up to six Low or Full Speed devices.
• Keyboards which support multiple devices behind a hub can now be supported.
• The USB class of the supported devices on the console port is limited to HID devices only.
• It is not possible to use other USB devices e.g. card readers, memory sticks or touch screens on the console port. These devices need to be connected to the enumerated USB ports on the switch.
Physical design
• Robust metal construction
• 433(w) x 30(h) x 158(d) mm; 17(w) x 1.2(h) x 6.2(d) in.
• 1.57kg / 3.5 lbs.
Power
• 2x Toby 3 pin jack x 2 (one power adapter included)
• 100-240VAC 50/60Hz, 0.7A, input to power adapter
• 12VDC, 18W output from power adapter
Environmental/Approvals/Compliance
• 0 to 40ºC / 32 to 104ºF
• CE
• FCC