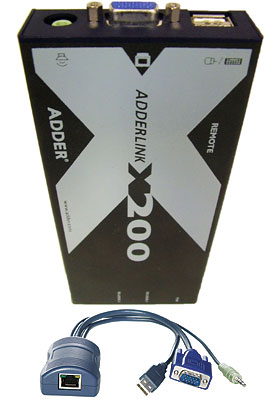 AdderLink X200 USB-VGA KVM Extenders
USB KVM+Audio console extension up to 1000 feet from 1 or 2 computers over CAT-x supporting high 1920x1200 video resolution
Read more below...

$445.00
Compare to MSRP $495.00 -
You save $50.00

$517.00
Compare to MSRP $575.00 -
You save $58.00
USB, optional stereo-audio and VGA KVM extenders
up to 1000-feet, with optional skew compensation and support for two computers
---
AdderLink X200 has been designed for use in applications where up to two computers can have their audio, keyboard, video and mouse control extended up to 1000 feet across CAT5 or higher UTP cable, supporting resolutions up to 1920x1200.
AdderLink X200 provides absolute real time keyboard and mouse performance along with 44.1kHz digital stereo audio support and hi-definition, hi-resolution video over a VGA interface.
A special feature of the AdderLink X200 is the integrated two port KVM switch, allowing control of two target devices, each up to 1000 feet away, using a single keyboard and mouse.
AdderLink X200 has many integrated features that maintain audio and video clarity, such as skew correction with a 300MHz bandwidth, video compensation to adjust the picture sharpness and brightness , 44.1 kHz digital stereo high fidelity audio for speakers and DDC for automatic video setup, plus USB emulation and country code reporting (Sun and Mac CPUs).