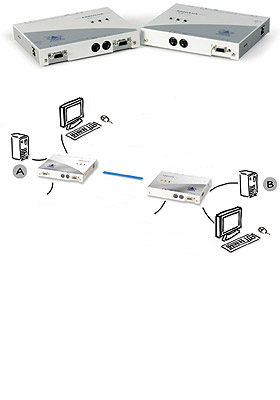 Buy this item and earn 579

Club

Points.
ALSTX/ALSRX: KVM and RS232 extension over 650 feet of a single UTP cable
with remote KVM switch and local control
---
AdderLink Silver has all the features of the AdderLink, plus local KVM control and a remote KVM switch, for added flexibility.
AdderLink Silver is designed to control a PC or KVM switch remotely over a single UTP cable. Serial RS232 is featured as standard, making AdderLink Silver ideal for 'touch screen', remote industrial and other serial applications.
AdderLink Silver is ideal for use in harsh, manufacturing environments, as well as broadcast and multimedia applications where the CPU can be located in a secure, clean and dirt free location.
AdderLink Silver local (transmitter) unit has a KVM console connection that enables the computer or KVM switch to be controlled by a local keyboard, monitor and mouse.
The remote (receiver) unit has a computer connection and an integral KVM switch that enables the remote user to switch their KVM console to control either the computer connected to the receiver unit or the computer / KVM switch connected to the transmitter unit.
Rack-mount kits are available for both local and remote units.
Features and Benefits
• 'Feed through' KVM console connection at local (transmitter) unit provides local control capability
• Integrated KVM switch allows a computer to be connected at the remote location
• 'Transparent' RS232 connection ensures maximum device support
• High VGA video quality at a resolution of up to 1600 x 1280
• Compatible with all major operating systems including DOS, OS/2, UNIX, Windows, NetWare and Linux
• Distance of up to 650 feet supported between transmitter and receiver
• Contains fine adjustable video amplifiers to maximize video quality
• LEDs show the status of connected devices
• Supports PC style (PS/2) keyboards and mice and many extra key, button and wheel features
• Also supports older style AT keyboards and RS232 mice