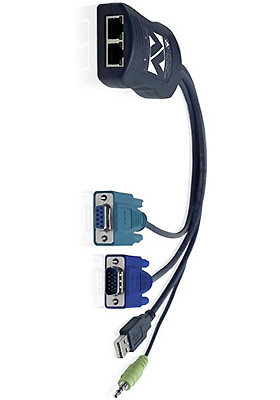 Buy this item and earn 135

Club

Points.
ALAV102T: Distribute high resolution video and high fidelity audio to two locations
up to 1000 feet across a single CATx cable with serial on/off
---
Note: Receiver units are purchased separately
AdderLink AV100 Series is a range of audiovisual extenders delivering high video resolutions and superb quality audio up to 1000 feet using standard CAT-x cable (x=5,5e,6,7).
The innovative design allows for flexible audiovisual distribution that can be expanded to grow in line with project developments.
The ALAV102T is a highly compact AV transmitter that allow you to deliver professional quality AV content to AdderLink AV100 series receivers.
The module connects to the video, USB, audio and RS232 ports of your computer and then connects via CAT-5, 5e or 6 cabling to AdderLink AV100 receivers, each of which can be located up to 1000 feet (300 meters) from the module.
ALAV102T features RS232 control allowing you to switch nodes on and off using Adders display manager software, or any RS232 control application.
AdderLink AV100 range of audiovisual extenders allow for the real time delivery of high quality multimedia content over long distances. Using AdderLink AV100 avoids the prohibitive costs of fiber optic cabling, displays with built in CPUs or locating a CPU next to each screen.
Allowing for the creation of flexible distribution architectures, AdderLink AV100 ensures direct delivery of crystal clear communication with consumers at the point of decision.
Features and Benefits
• Extends a single high resolution video and high fidelity audio signal to 2 different receivers up to 1000 feet each, across a single CAT-x cable running to each receiver
• Extra fine video quality including 720p (1280 x 720 x 60Hz) at 300m;
1080p (1920 x 1200 x 60Hz) at 100m
• High fidelity click-less CD quality digital stereo audio (16bit, 44.1 kHz, stereo)
• EDID display information - The module contains a default set of EDID information that supports display resolutions up to 1920 x 1080 @ 60Hz. In addition, the module will check during power up whether alternative EDID information is available from the KVM switch or extender that is connected to port A. If required, you can also harvest and store new EDID information from your display (Read and Store).
• Power - ALAV102T uses a USB port to derive its power from the host computer, dispensing with the need for a separate power supply, thus simplifying installation. The USB cable must always be connected to a USB port on the computer that is capable of providing up to 300mA.
• Small footprint - ALAV102T has been designed to use minimal space around your host systems, allowing you to neatly locate the transmitter. moulded cables also reduce cable clutter, keeping the device easily accesable at all times.
• RS232 for disabling/re-enabling receiver connections - Using the onboard RS232 interface, individual transmission paths can be disconnected allowing remote screens to sleep, and wake on re-connection. This saves power and screen hours in use.
Using a KVM over IP device such as the AVX5016, you can directly control up to 32 individual transmission paths from anywhere in the world.
• AV-KVM Port - ALAV102T is the first ADDERLink transmitter to feature AV-KVM ports. These ports allow you to connect directly to a KVM extender. This allows you to add additional devices such as touch screens and keyboards.