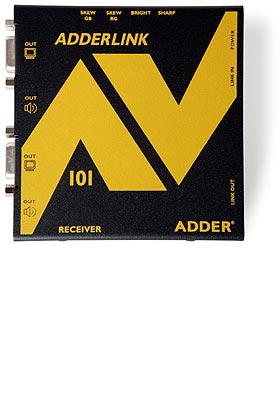 Buy this item and earn 266

Club

Points.
ALAV101R: Extend high resolution video and high fidelity audio
up to 1000 feet across a single CATx cable
---
Note: Transmitter units are purchased separately
AdderLink AV100 Series is a range of audiovisual extenders delivering high video resolutions and superb quality audio up to 1000 feet using standard CAT-x cable (x=5,5e,6,7).
The innovative design allows for flexible audiovisual distribution that can be expanded to grow in line with project developments.
AdderLink AV100 range of audiovisual extenders allow for the real time delivery of high quality multimedia content over long distances. Using the AdderLink AV avoids the prohibitive costs of fiber optic cabling, displays with built in CPUs or locating a CPU next to each screen.
Allowing for the creation of flexible distribution architectures, AdderLink AV ensures direct delivery of crystal clear communication with consumers at the point of decision.
Features and Benefits
• Can be used as a receiver up to 1000 feet from AdderLink AV 100T or AdderLink AV 104T transmitters
• Extra fine video quality at resolutions up to 1600 x 1200 at 650 feet, and 1280 x 1024 at 1000 feet
• Duplicates input from transmitter allowing for 2 video and 2 audio outputs
• Integrated skew adjustment allowing the receiver to be located further from the transmitter and/or cope with higher video resolutions
• Has local cascade port allowing for other receivers to be cascaded from the original receiver
• High fidelity click-less digital audio (16bit, 44.1 kHz, stereo)
• Fine, independent sharpness and brightness control
• DDC support
• Feed through / cascade port at transmitter
• Dual video and audio outputs at receiver
• Use stand alone or rack mount 16 modules across 3U
• Advanced spike suppression circuits for reliability in 'noisy' installations
• All metal construction
• Power/video indication confirm correct operation
Rack mount options
Both the local (computer-end) and remote (display-end) units may be rack mounted in the AdderLink AV Series rack mount chassis. The chassis enable 16 units to be mounted in 3U of 19-inch rack space. The units are rack mounted using the optional rack mount faceplate.